Adding New Products and their Descriptions
This procedure will guide you on how to add new products, create new product categories, add types of shipping, billing cycles and product descriptions.
To add new products to your cart, please follow the instructions below.
Step 1: Log in to the Merchant Portal at https://merchant.paycafe.com/login
Step 2: Place cursor over PRODUCTS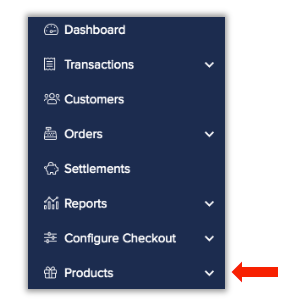 Step 3: Click on ADD PRODUCT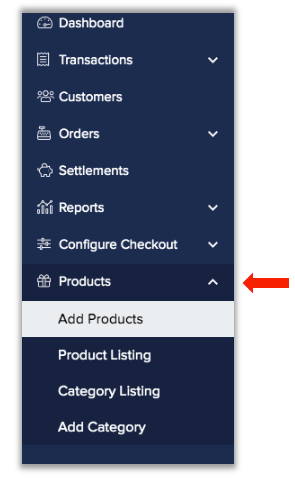 Step 4: Add the name of your Product
Step 5: Enter your products name in the NAME field
Step 6: Enter a SHORT DESCRIPTION of your product
Note: If you want to add a more detailed product description, you can enter your description in the DESCRIPTION field.

Step 7: Select Product Type

Digital/Download

Service

Shipped Product/Physical
Step 8: Select Product Category
Note: You can select GENERAL as a product category. Or, you can create your own product category. We recommend creating your own product categories to help you manage your products.

Example: Below are examples of New Product Categories
Clothing

Digital Services

Food
Step 8.1: To create a New Product Category, select ADD NEW CATEGORY
Note: A new web browser will be opened once you have clicked on ADD NEW CATEGORY

Step 8.2: Add the following;
Category Name

Short Description

Long Description

Step 8.3: Category Staus
Once you are ready to enable your New Product Category, select ACTIVE

Step 8.4: Click on ADD Category once you have completed the setup process
Step 9: Select Delivery Options

Step 10: Enter Price or select Free

Step 11: Select Currency Type

Step 12: Select the Billing Cycle

Step 13: Select a photo of your product or item
Step 14: Once you have completed Step 1 - 13, click on ADD PRODUCT
If you have questions or need assistance with adding new products, please submit a support ticket through merchant portal at https://merchant.paycafe.com/login